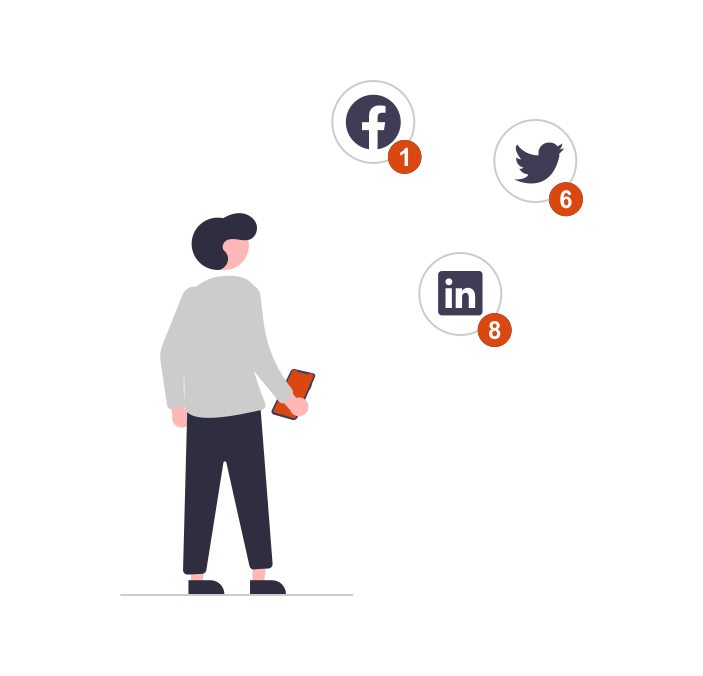 Target Your Customers with Social Media
Building a presence in social media gives you the opportunity to connect with your target audience on their terms and open a two-way dialogue between your customers and your company. Many networks offer the opportunity to target by interests, locations, and demographics when using paid advertising – meaning you can be sure your message is reaching the right audience for your products.
Did you know that new customers who have been referred by a friend often have a higher lifetime value and tend to think more positively about your brand? Well, you already have loyal customers – and they have friends. Social networks are a natural place for your customers to organically promote your business. We can help you develop an effective social media strategy including contests, customized media, and shareable content that is bound to increase your reach.
Find the Right Social Networks for Your Brand
The first mistake organizations make with social media is trying to be everywhere at once. We'll help you decide which networks are best for your business – then we'll build an appealing profile and provide you with an effective strategy to reach your existing customers and find new ones.
Facebook is great for organic social media, especially if you're a B2C business. Harness the enthusiasm of your loyal customers to drive referrals and increase online visibility. Plus, paid advertising through Facebook can be targeted by interests, demographics, and locations, making it a good opportunity to find new customers.
Twitter is a good opportunity to announce special offers and share valuable content in an effort to establish your brand as an industry expert. With paid advertising through Twitter Ads, you can target specific demographics and locations, and even promote your own #hashtag.
YouTube is actually the fastest-growing social network, eclipsing even Facebook and Twitter. Users are engaged by videos, and you can never watch just one. If your brand is ready to invest in creating videos, YouTube will be an asset to cultivating your community and maybe even "going viral."
Pinterest has shown exceptional results for brands – especially those involved in cooking, crafts, decorating, travel, and other visually stimulating activities. An image is worth a thousand words – and if it links to your website and drives traffic, it's worth even more.
Have a project in mind? Let's get to work.